Our Founding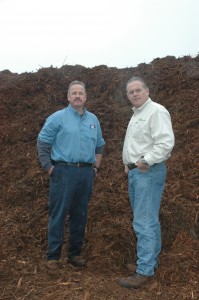 Earth Farms Organics was founded to provide a "green" answer to an unsustainable practice.
After more than 35 years of servicing Charlotte-area homes and businesses, Jim Lanier of Stanley Environmental Solutions was faced with a dilemma: What to do with the food waste removed from grease traps in restaurants?  The industry standard was to send it to the landfill, but he was not satisfied with wasting this precious organic material.  After some research and many discussions with state regulators, Jim decided to start a compost facility.
Earth Farms Organics was created in 2006 on 100 acres of land in Dallas, N.C., with not much more than a tractor and a skid steer. Through word of mouth and involvement in the local sustainability movement, Earth Farms Organics has grown and grown.
Five years later, Earth Farms is diverting organic waste from all over the Charlotte area and turning it into a nutrient-rich, soil-enhancing compost. If you are thinking about taking your business, garden, or lawn in a more sustainable direction, we would love to talk to you about what we are up to and how we went "green."